President's Message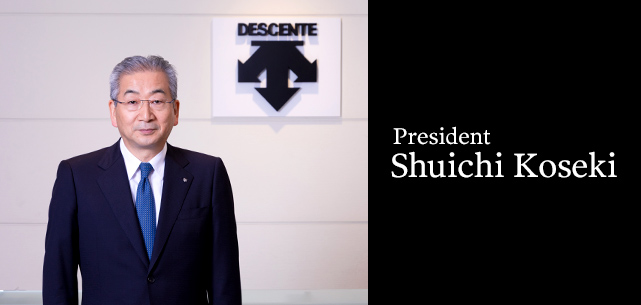 Management Policy
On June 20, 2019, we embarked on a new management structure. The Board of Directors will consist of six individuals, including outside directors, and as we push forward with a more streamlined approach to management, we will also work to strengthen governance. Under our corporate philosophy, "To bring the enjoyment of sports to all," we will strive to ensure that enhancing corporate value remains our top priority. To that end, my emphasis will be on stable management. We have assets that include three main markets--Japan, South Korea and China--and 14 brands. Our goal will be to achieve management stability by taking advantage of our ability to maintain balance, combining regions and brands in ways that avoid over-reliance on any one aspect. In addition, we are fortunate to have employees who embody our founding spirit and continue to refine our manufacturing creativity, and they are further supported by two new R&D centers launched last year in Osaka, Japan and in Busan, South Korea. As we consider how to make effective use of these and many other assets, we will continue to track social trends and quickly draft and execute our business strategy accordingly.
Initiatives for the Fiscal Year Ending March 2020
The fiscal year ending March 2020 is also the first year of our new medium-term management plan, to be announced, and the first year under our new management structure. We will of course be working to achieve the quantitative aspects of our plan. At the same time, we will strive to advance a more balanced approach to management, conducting internal reviews and making proactive investments where necessary while eliminating waste; exercising the principles of competition; engaging in an exchange of ideas between management and employees, and between employees themselves; and further reinvigorating internal discussions.
To Our Shareholders
In the next few years, Japan will play host to a number of major international sporting events, and interest in sports is on the rise. Opportunities for sports fans from around the world to visit Japan will multiply, and Japan itself will be the focus of greater attention. I am confident that this will energize the sports market as a whole. The DESCENTE Group thus launches its new management structure with the wind at its back. We will continue striving to enhance corporate value for DESCENTE and for all of our Group companies, devoting ourselves to delighting our customers by manufacturing products that are unique to DESCENTE. We also remain committed to continuing to grow both market share and profits in our three main markets of Japan, South Korea and China to achieve the targets we have set out. Your unwavering support of those efforts is appreciated.