President's Message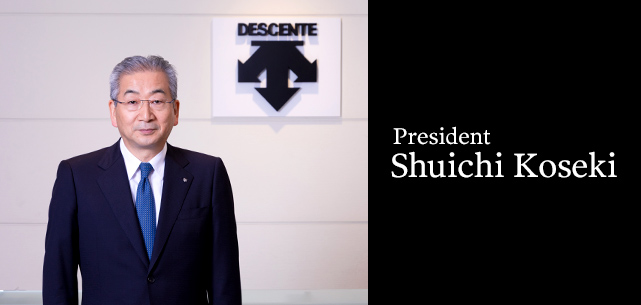 President's Message


Following our medium-term management plan "D-Summit 2023", we are promoting: "I. Implement strategies by regions for Japan, South Korea, and China," "II. Improvement of profitability in Japan business," and "III. Enhance our manufacturing capabilities". FY2022 was the second year of the management plan, and we were able to achieve balanced profitability in Japan, South Korea, and China.

Changes in the external environment such as the easing of restrictions due to the new coronavirus infection (hereinafter COVID-19) and the normalization of economic activity were added, and we achieved record highs in both ordinary income and net income for the period.
We focused most on restructuring our Japan business. By controlling production volume and establishing an internal system to strictly manage returns and discounts, we were able to improve profitability. South Korea has recovered smoothly, overcoming the effects of boycotts and COVID-19, with strong growth in "umbro" and hits of newly developed shoes. In China, "DESCENTE" is growing strongly as a representative of premium sports brands. Also, we have consolidated two equity-method affiliates that were developing "le coq sportif'' and "arena" as consolidated subsidiaries to directory grasp and leverage our management. The business situation has been steadily improving since then.

In FY2023, we will clarify the position and value of each brand and strengthen our branding to appeal to customers. We will improve product line-ups, brand logo presentation, and marketing measures to create a brand that makes customers enjoy purchasing its products and feel excited to wear them.
As a first step, we divided the product mix of our corporate brand "DESCENTE"into "DESCENTE" and "MOVESPORT" from the 2023 spring/summer season. "DESCENTE" is established as a premium sports brand with high added value and high functionality. It will be distributed through in-house distribution with a product that emphasizes the spirit mark of the brand logo. On the other hand, "MOVESPORT" will be developed mainly through wholesale distribution as a label that enhances functionality to support sports performance as well as design that is easy to wear in everyday life.
In China, we will implement a rebranding of "le coq sportif" and reposition it as a genuine sports brand with a 140-years of history. In South Korea, some brands have focused too much on the market-in mindset. We will return to our roots of manufacturing by focusing on materials, patterns, specifications, etc. In particular, we are now especially working on shoes and will work to enhance the developed products to increase the composition ratio of shoes' sales.

In addition, as one of the pillars of our medium-term management plan and a source of our competitiveness, we also work on enhancing our manufacturing capabilities by branding our own factories in specific high-value-added products. As one such measure, we will renovate our Mizusawa Factory, which specializes in high-value added product Mizusawa Down, as a mother factory for our three domestic factories to achieve environmental consideration, regional coexistence, and job satisfaction.
At the same time, following Mizusawa Down by Mizusawa Factory, Yoshino Factory will specialize in polo shirts and Saito Factory will specialize in bonded sewing for "arena" swimwear. At Yoshino Factory, we have started production of 10 YEARS POLO SHIRTS by "Munsingwear". We will continue to polish our manufacturing capabilities as a source of competitiveness and strive to deliver better products.

Thanks to the support of our shareholders, our performance has steadily improved and our earnings structure has stabilized. In FY2022, we were able to pay dividends at a record high amount. We plan to return dividends at a similar payout ratio in FY2023 but are determined to achieve even higher goals in order to repay those who supported us during difficult times when we were unable to pay dividends. We appreciate your continued support.