President's Message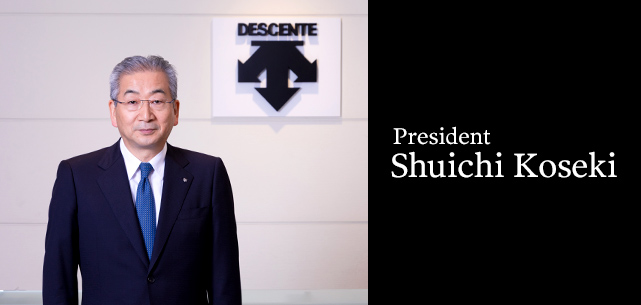 About progress with D-Summit 2021,
the medium-term management plan.
One of the key strategies of D-Summit 2021, formulated in 2019, is "Consolidate in Asia," and in FY2019, our efforts focused on doing that. In the past, the Company had sought expansion in the global marketplace. Under the current conditions, however, we determined that continuing to expand our market would bring significant risks in terms of the Company's resources and personnel, and that we should select and concentrate on certain areas and brands. This means targeting those markets that meet our current capabilities, while slimming down business and reducing risk in those that do not. In Europe and North America we have positioned maintaining our brand image as our highest-priority strategy, reducing risk by shifting to a wholesale business model, and changing strategy to focus on Asia--and particularly China--where revenue can grow. In the Chinese market, where the DESCENTE brand is the core of our business, we established a joint venture with ANTA and are working to expand sales, steadily rolling out new stores and were able to turn a profit in FY2019, a full year ahead of schedule. In the fiscal year ending March 31, 2021 (FY2020), we will increase the Company's stake in the joint venture from 30%, to 40% and in the following year plan to shift to a scheme that will expand our revenue further. Discussions are currently progressing with Anta with the final contract yet to be agreed. This future shift will increase the profits we gain from the partnership and will increase the contribution to revenue of the DESCENTE business in China, but discussions continue on measures for further expansion.
With Japan, South Korea and China--three disparate markets--as our three pillars, we can diversify and deal with any risks that may arise. In North America and Europe, on the other hand, marketability, cultural backgrounds and other factors differ from those in Asia, and the markets feature much stronger competition; we determined that considering our current resources, we are unable to adequately manage in those markets. We believe that Japan, South Korea and China are the three markets in which we can control risk and increase revenue, and that if we can demonstrate our strengths there, revenue will stabilize.
In addition, until FY2018 we had managed 14 brands. We have begun to select and concentrate in our brand approach, too, shifting to a strategy of leveraging our ability to focus on the Asian region with brands that can demonstrate their strength there. Among these, DESCENTE, an extremely important corporate brand for the Company, is seeing steady growth, and we plan to devote our planning and design resources to DESCENTE to grow the brand further, building results along with our other strong brands.
Another key strategy of D-Summit 2021 is to "Improve the Profitability of the Japan Business." The DESCENTE corporate brand has had success in retail by expanding its directly managed stores in South Korea and China. Building on this successful experience, we want to expand our retail effort in Japan, increasing the number of directly managed stores even further to deliver our strength in manufacturing creativity directly to consumers. Beginning in FY2020, we plan to invest aggressively in promoting this strategy, including e-commerce.
In terms of our final key strategy to "Enhance our Manufacturing Capabilities," our DISC R&D centers in Japan and South Korea have now been in operation for nearly a year and a half. DISC OSAKA is focused primarily on developing apparel, and has generated a number of products--including those developed jointly with top athletes--that will seed future business, but products that can connect with a large number of consumers and that will lead to business expansion still lie ahead. I think this will require every individual in the Company--from sales to R&D staff--to aim for revenue-conscious product development. DISC BUSAN, meanwhile, specializes in developing shoes, but since that work takes time, and considering that other major global brands have particular strength in shoes, the team is working to develop shoes that are "uniquely DESCENTE." To accomplish that, we are attempting to develop shoes that meet the needs of consumers in each region--shoes that fit the shape of Japanese feet, or the feet of people in South Korea and China--just as we have done in expanding our business by devising and developing products aligned with the characteristics of specific market areas.
To Our Shareholders
With a structure in place for a three-pillar business centered around Japan, South Korea and China, and with management risks reduced, we will take a positive approach to the work that lies ahead in FY2020. The COVID-19 pandemic will eventually come to an end and be resolved. We want to build a strong presence in the three markets where we have a structure in place, and make this a company that delivers both profits and revenue.
As a result of COVID-19, both professional sports and an array of sporting events have been shut down across the board, and there is almost none of the sports news that usually enlivens television and newspapers. We feel this very keenly, and it makes us realize once again just how necessary sports are to people's everyday lives. Our corporate philosophy is to "bring the enjoyment of sports to all." These recent events have, unintentionally, given us an opportunity to recognize the importance of this philosophy. With consecutive forthcoming major international sporting events in Japan and China--we look forward to a bright future.