History
Since our founding in 1935, DESCENTE has continuously developed performance products across multiple brands for a wide variety of competitive sports. We will continue in our efforts to bring the enjoyment of sports to even more people than ever before.
History of Our Technology Development
History of DESCENTE
1935
February 1935
"Tsuruya", the predecessor of DESCENTE, was founded by Takeo Ishimoto.
1950s
1953: Cream-Colored Baseball Uniforms
DESCENTE successfully developed cream-colored baseball uniforms and training pants made from pre-shrunk cotton fabric with a wool-like finish. Capitalizing on a baseball boom, these items became hit products.
1957: RWSB

Based on advice from Japan's first professional skier, Kazuyoshi Nishimura, DESCENTE launched the RWSB, a windbreaker jacket that was compact for carrying. The name RWSB (pronounced "rausbee") is an acronym for "Rain-Wind-Snow-Break."
1957
The "DESCENTE" brand was launched.
(Trademark registrated in 1961)
February 1958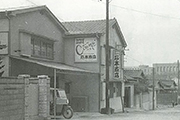 The company was reorganized to "Ishimoto Shoten Co., Ltd." specializing in the manufacture and sales of sportswear.
1960s
1968: Single-Knit Uniforms
The Chunichi Dragons professional baseball team used DESCENTE's new single-knit uniforms. In 1969, the double-knit version was developed, leading to the widespread adoption of uniforms made from knitted fabrics in place of woven materials. By the late 1970s, 11 of Japan's 12 professional baseball teams wore DESCENTE uniforms.
September 1961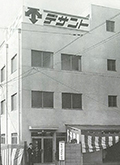 The company changed its name to DESCENTE LTD.
1964
The "Munsingwear" brand was launched. (Trademark rights for Japan and other Asian countries obtained in 1984)
1970s
1973: Demo Pants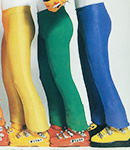 Traditionally, ski pants had been worn inside boots. DESCENTE developed an improved "over-the-boot" style, which combined superior performance and style to become a huge marketing success.
1979: Downhill Suit
During the FIS Alpine Ski World Cup season, DESCENTE's "magic" downhill suit dominated the winners' podium. The suit reduced air resistance to the lowest acceptable limits and caused a sensation by shaving up to two seconds off the winners' times.
1970
Exhibited at "ISPO'70" (the 1st), the world's largest sporting goods show
1977
The "arena" brand was launched. (Trademark rights for Japan and other Asian countries obtained in 1990)
September 1978
The 1st DESCENTE Athletics Eight Nation Track & Field Championship, the first sports competition to be sponsored by DESCENTE, was held.
April 1979
"THE DESCENTE AND ISHIMOTO MEMORIAL FOUNDATION FOR THE PROMOTION OF SPORTS SCIENCE" was established.
1980s
1980: Speed Skating Suit Worn by Eric Heiden
At the 1980 Lake Placid Winter Olympics, Eric Heiden (USA) wore a "DESCENTE" speed skating suit to win an unprecedented five gold medals. In addition to applying the aerodynamic cut of the "magic" downhill suit, the kick-off speed was enhanced by optimal compression.
1986: Cycling Wear Worn by Koichi Nakano

Professional keirin track cyclist Koichi Nakano won 10 consecutive professional sprint world championships from 1977 to 1986. The cycling wear used by Nakano combined downhill and speed skating suit technology.
1988: Solar α
"Solar α" technology meant outer garments could actively generate their own heat. The heat-storing textile, developed in partnership with Unitika Ltd., converted sunlight into heat to bolster thermal retention and was utilized in radical new ski wear.
March 1980
The company was listed on the first section of the Tokyo Stock Exchange.
1980
The "le coq sportif" brand was launched in Japan. (Trademark rights for Japan and other Asian countries obtained in 1990)
March 1985
The company had a pavilion based on the theme of "Health & Sports" at the International Exposition, Tsukuba, Japan, 1985.
1990s
1992: Strush SR

From racing yacht keel technology, arena launched "Strush SR" (Super Rectification) swimwear, featuring a silicone rubber surface covered in tiny riblets to reduce water flow resistance. It was the world's first swimwear technology based on non-fiber material. The Japanese men's swimming team wore "Strush SR" suites at the 1992 Barcelona Olympics.
1998: DIMPLEX

"DIMPLEX" was a breakthrough material developed for use in downhill and ski jump suits. It employed a dimpled surface to reduce air drag at high speed.
1999: Protective Vest for Flat Racing Jockeys

Developed for flat racing jockeys in collaboration with the Japan Racing Association (JRA), this product provides protection during a fall through shock absorption and at the same time is ultra light and cool with the use of a new 3D honeycomb mesh material.
April 1992
The JPGA "1st Descente Classic Munsingwear Cup" golf tournament,was launched. (ended in 2008)
January 1998
Construction of the new Tokyo Office building, located in Toshima-ku, Tokyo, was completed.
1999
The "umbro" brand was launched in Japan. (Trade mark right for Japan obtained in 1999, for South Korea in 2013)
2000s
2002: Cocoon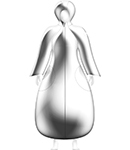 For the 2002 Salt Lake Winter Olympics, the renowned costume designer Eiko Ishioka was invited by DESCENTE to create a dramatic collection of garments. One of these was the Cocoon coat, which helped the athletes to focus their concentration prior to a race.
2004: Aile Bleue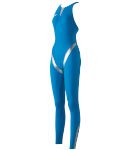 Aile Bleue swimwear was launched by arena. The design applies "biomimetics" to manufacturing to achieve smart performance based on principles derived from nature. At the 2004 Athens Olympics, Ai Shibata won gold in the 800m women's freestyle wearing Aile Bleue.
2004: Forest Ranger

DESCENTE developed the "Forest Ranger" line of protective gear for the forestry industry. The multi-layer textile structure and high-strength felt layer combine to reduce the severity of chainsaw injuries.
2008: HEATNAVI

DESCENTE developed "HEATNAVI" as a heat-retaining thermal material efficiently absorbing sunlight and converting it to heat. It is used extensively and is an environmentally friendly fabric.
2008: Mizusawa Down Jacket

A down jacket line based on a non-quilting manufacturing process. The product uses materials that achieve superior water resistance and moisture permeability, thereby providing a high level of wearer comfort.
September 2000
The LPGA "Munsingwear Ladies Tokai Classic" golf tournament, was launched.
(ended in 2020)
August 2006
The first annual "Sports School for Healthy Kids" was held, with the aim of educating children about the pleasure of sports. (has been held every year since 2006)
2010s
2010: Energy Return

"Energy Return" is a unique performance enhancing technology developed by DESCENTE that utilizes the rebound effect of strategically placed bands in racewear fabrics to increase both power output and forward momentum. It has multiple applications across a wide range of sports.
2011: Sunscreen

DESCENTE developed its revolutionary "Sunscreen" which prevents heat buildup within sportswear garments by efficiently reflecting the sun's heat-transmitting infrared rays. The Sunscreen layer becomes a "parasol you wear" by blocking ultraviolet (UV) rays. It is particularly suited to golf and all other outdoor sports.
2013: DEODASH

DESCENTE developed "Deodash", a specialized sports deodorizing fabric. This material eliminates ammonia odor rapidly, which is caused by high volumes of perspiration generated over a short period during exercise.
2014: Unifit Pants

Developed "Unifit Pants" for baseball. With each leg a single piece of cloth and DESCENTE's unique three-dimensional construction they have fewer seams for greater freedom of movement.
*Patent acquired for single-piece three-dimensional structure for each leg of a pair of pants (Patent No. 5651213).
2015: Water Slider

Developed the "Water Slider," a new tape that controls the flow of water drops down clothing. The strategically placed hydrophilic tape attracts and guides water to reduce rainy day discomfort.
2016: Triathlon Suit

In triathlon, athletes wear a single suit for swimming, cycling and running. DESCENTE works with the multi-medal winning Swiss National triathlon team, a powerhouse in this event, to supply one suit that can provide the ideal core support functions necessary for these three varying disciplines. Nicola Spirig, a member of the Swiss team, won Silver at the Olympics in Rio de Janeiro wearing this suit. The racing suits, which aim to achieve both speed and comfort, utilize the latest technology and are manufactured in our own factory in Japan.
2019: Fencing Competition Wear

By developing original fabrics and making full use of our expertise in pattern design--one of our specialties--DESCENTE has developed a new kind of competitive fencing apparel that suits the Japanese body type and provides greater ease of movement. This is the first made-in-Japan apparel to be approved by the International Fencing Federation, and will be offered to members of the Japanese national team.
2019: GENTEN

For DESCENTE, we have also developed the GENTEN running shoe, with the objective of training the foot to run faster, not simply to make a faster shoe. These thin-soled shoes allow improved ground contact sensation, offer excellent fit, and feature a unique bottom surface that makes it easier to gain forward propulsion.
March 2012
Construction of the new Osaka Office building, located in Tennoji-ku, Osaka City, was completed.
2013
The "inov-8" brand was launched.
(Acquired INOVEIGHT Group as a subsidiary in 2015, transferred the group's shares in 2020 and obtained trademark rights limited to Japan, South Korea and China)
July 2015
DESCENTE LTD. was awarded the J∞QUALITY certification for products made in Japan.
July 2016
DESCENTE (CHINA) CO., LTD. was established.
September 2016
DESCENTE JAPAN LTD. was established.
October 2016
ARENA (SHANGHAI) INDUSTRIAL CO., LTD. was established.
February 2017
Certificated as a Health & Productivity Management Organization
(Certified every year since 2017)
December 2018
Certificated as a "Sports Yell Company" (Cerified every year since 2018)
2020s
2020: Ultimate Aquaforce X

We have developed two types, the MF (Motion Free) that focuses on ease of movement, and the CP (Control Position) that emphasizes support. The MF features a torso portion constructed out of a single part. The CP has Y-shaped grip tape across the hips, helping to prevent air pockets between the swimsuit and the torso, and controlling body position in the water.
2020
We have launched a lifestyle magazine, ULLR MAG., our first inhouse digital media platform.