President's Message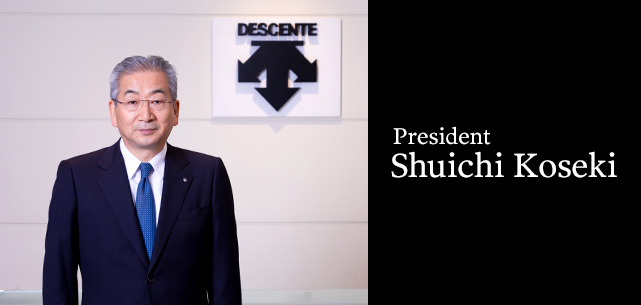 Compass 2015 final year targets achieved and our five globalization initiatives are on track.
The new three-year medium term plan, Compass 2018, has been activated.
Results for the Fiscal Year Ended March 2016
Thanks to improved profitability of our Japan business and expanded operations in South Korea and other Asian markets, consolidated results for the fiscal year ended March 2016 broke previous records in both sales and profits, with JPY135.778 billion in sales (10.3% increase over the year-earlier period), JPY10.376 billion in operating profit (13.6% increase), JPY11.053 billion in ordinary profit (15.8% increase), and JPY7.87 billion (19.9% increase) in current net profit attributable to the shareholders of the parent company. In Japan, one of our most significant achievements was improving profitability—a result of our commitment to offering the optimal product mix at the optimal time and of our focus on sales and sell through in stores. Outside Japan, although the slowdown of the Chinese economy and mild winter in Asia had a negative impact on sales of some of our winter items, our Descente brand athletic wear and le coq sportif remained strong, and targets for these brands were realised.
Key Initiatives in the Fiscal Year Ended March 2016
The first initiative was to expand our core and priority Descente brand business. We launched a new athleisure lifestyle retail concept called Descente Blanc, opening stores in Daikanyama, Tokyo, and Fukuoka and Osaka from September through November 2015. We also opened the Descente brand's first global flagship store in London, England in November—Descente Shop London Carnaby Street. Previously, Descente products have largely been associated with skiing and competition racesuits. These new stores have enabled us to reach customers in a broader range of age groups and markets and to offer a wider range of unique Descente products.
The second initiative was strengthening our business in North America, Europe, and Greater China, our third pillar after Japan and South Korea. In August we acquired UK trail running footwear, apparel, and equipment company Inov-8 Group. Marketed in over 60 countries worldwide, mainly in Europe and North America, Inov-8 is a unique brand that excels in product development. We aim to further enhance the brand's features and turn it into the leading all-terrain running shoe brand. We also plan to capitalize on synergies and integrate Inov-8's outstanding product development capabilities into our other shoe brands. In Greater China, our strategy has involved using Japanese singer and actor Takuya Kimura, whose popularity extends Asia-wide, as the brand spokesman for Munsingwear from January 2016, and rolling out a unified promotional campaign spanning Greater China (including China, Hong Kong, Macau, Taiwan, and Singapore) and South Korea. This campaign has prived to be very effective. Chinese consumers saw the same advertisements in their own country as in their travel destinations in other parts of Asia, which seems to have resulted in a sharp rise in brand awareness for Munsingwear and led to increased purchases.
The third initiative was rolling out a new brand in the golf category. After launching Descente Golf in the 2015 spring-summer season, we began selling the new Srixon golf wear brand in Japan from the 2016 spring-summer season through our partnership with Dunlop Sports Co. Ltd. As the first hardwear inspired brand in our portfolio, we hope that adding it to our lineup will further expand our already strong share of the golf wear market.
Results of the Compass 2015 Medium Term Management Plan
The final year of our three-year medium term plan, Compass 2015, far exceeded our expectations. We achieved our targets of JPY120 billion in sales, JPY8 billion in operating profit and JPY5 billion in current net profit in the fiscal year ended March 2015—one year ahead of schedule. After attaining our quantitative targets, we continued to focus on addressing qualitative challenges such as furthering globalization efforts and restructuring our Japan business.
One particularly noteworthy achievement of Compass 2015 was improving communications between Japan and our subsidiaries and between subsidiaries themselves. In the last three years, we have simultaneously pursued localization of our subsidiaries outside Japan, and made a more conscious effort to share and exchange ideas between headquarters and overseas locations on matters such as branding and product concepts for each season. As a result, communication skills of overseas locations have improved, and ties between locations have become stronger. In fact, Descente Korea led the development of some of the products offered in China this fiscal year, so I feel that we have promoted globalization of the entire Descente Group.
The New Medium Term Management Plan
We have formulated VISION 2020—our vision of where we want to be in five years, and Compass 2018—our new medium term management plan to achieve that vision. While both VISION 2020 and Compass 2018 place a heavy emphasis on global growth, we have not forgotten our origins as a Japanese brand. We take pride in the fact that we are a Japanese company, and believe that leveraging the strengths we have cultivated as a Japanese brand is the key to successful globalization. We hope that you will continue supporting us as we expand from Japan and spread our wings across the globe. Great things are in store for Descente in 2020.
Medium Term Management Plan VISION 2020 & Compass 2018
June.2016
Masatoshi Ishimoto