President's Message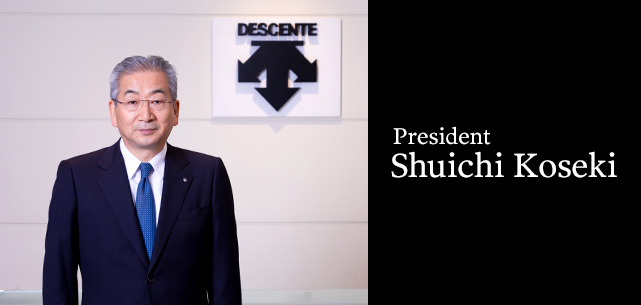 The company spin off has gotten off to a good start and we are beginning to see positive effects both domestically and internationally. The Group will continue working together to improve corporate value.
Results for the Fiscal Year Ended March 2018
Results for the fiscal year ended March 2018 were an increase in both sales and profits, with net sales of JPY141.124 billion (up 7.3% year-on-year), operating profit of JPY9.596 billion (up 14% year-on-year), ordinary profit of JPY9.698 billion (up 12.4% year-on-year) and profit attributable to owners of parent of JPY5.771 billion (an increase of 2.1% year-on-year).
By region, our business in Japan saw us successfully deliver on one major goal of our recent company spin off: to increase revenue by steadily improving profitability and capturing domestic demand.
The DESCENTE brand led strong results in South Korea, and umbro brand sales doubled. The struggling le coq sportif brand also showed signs of recovery, and we sense the momentum is there for a turnaround.
Beyond Japan and South Korea, we are also focusing on establishing China as a third pillar, and with the two companies we established there in 2016 now in full-scale operation, we have successfully put the business there on track, opening 58 new DESCENTE brand stores as well as 50 stores under the arena brand. As a result, sales in China, converted to Japanese yen, were about JPY14.0 billion, a year-on-year increase of 150% (on a local currency basis), becoming an important pillar of our business.
Domestically and internationally, we are beginning to see the effects of the company spin off, and have gotten off to a good start.
Signature Initiatives in the Fiscal Year Ended March 2018
In the past year, I think we succeeded in making the most of our distinctive qualities, as seen in our involvement with top athletes and in the positive response to our technical capabilities.
First, the DESCENTE brand was named a Gold winner for the seventh time at ISPO, the world's largest sporting goods show. DESCENTE has also exhibited in the ski category at ISPO since the show's inception, and this year saw us finally succeed in our goal of being recognized in that category, winning ISPO awards for two products. I feel we are making solid progress toward achieving our goal of improving our manufacturing creativity, one of the main strategies under Compass 2018, our current medium-term management plan.
Second, this winter we set up the directly run DESCENTE Brand Station in PyeongChang, South Korea. This provided a venue not only for product sales, but for offering a variety of information and for exhibiting World Cup models of competition sportswear supplied by DESCENTE. We also provided a booth where athletes could go to get their racing suits and other apparel repaired or adjusted. While we have provided repair services at international sports events in the past, by setting up this booth in full view, I think we gave visitors from around the world a chance to experience up close our approach to manufacturing and our technical capabilities.
We also continue to focus our efforts on our supplier contracts with top athletes, who serve an important role as ambassadors for our brands. Baseball star Shohei Ohtani, who recently moved from Japan to play in the US will continue wearing the DESCENTE and SKINS brands, and looking ahead, we plan to sign contracts with other young athletes who show promise. By having athletes compete wearing our brands, we hope to convey the excellence of our products to users around the world.
Changes in Internally After the Company Spin Off
One internal project we are working on is the re-indoctrination of our corporate identity. We are a diverse Group but our Group mission to create quality products and deliver them to customers should be the same across all of our companies and divisions. With the company spin off, I think it is more important than ever that this message is reaffirmed in the hearts and minds of each employee. We started by holding our first employee athletic meet in 20 years, as an opportunity to reinforce our corporate philosophy and founding spirit (Spirit of DESCENTE). We devised a number of ways to do this, including dividing the participants into teams named after the four key words representing the Spirit of DESCENTE: Creation, Challenge, Integrity and Harmony. The event was a chance for employees to fully enjoy what we can offer as a sports company, while making them more aware of our corporate identity.
We also held our "D-TOP Awards," where designers from each of our brands divide up into six teams to design PC wallpaper based on the keywords of our Spirit of DESCENTE. Each of the completed designs was set up to display for several weeks on employee PCs in Japan, after which a vote was held to decide the top design. These kinds of events allowed all of our employees to share in our identity across divisional and occupational boundaries, and as a next step, we are planning other measures to ensure that each and every employee is aware of and can put our corporate identity into practice.
Policies Going into the Fiscal Year Ending March 2019
In the first year of Compass 2018, the fiscal year ended March 2017, we faced a slowdown in the South Korean market, and we downgraded our forecast in the belief that achieving the quantitative targets we had set for the final year, the fiscal year ending March 2019, would be difficult. At the same time, we have worked steadily on the revised targets based on the main Compass 2018 strategies and are beginning to see results. For example, the two new R&D centers for apparel and shoes, which are expected to boost progress toward our goal of improving our manufacturing creativity, will be fully operational in the fiscal year ending March 2019. The relocation and reconstruction of the DESCENTE Apparel Yoshino Factory has been completed, and enhancements to equipment at the Mizusawa Factory are also wrapping up as we work to put everything in place on the facilities side. Next, we will begin taking steps specifically aimed at expanding production capacity and strengthening our design and development capabilities.
In addition, the inov-8 brand--working with the University of Manchester--has succeeded in developing and commercializing a new shoe using graphene, a material that earned its discovery team the Nobel Prize in Physics in 2010. Though nanometers thin, graphene offers extraordinary strength and flexibility. We believe that applying this material to sports shoes, which require outstanding grip, will allow us to respond to serious runners' expectations. We see that extending this graphene-based shoe technology to our other brands will also lead to improvements in our shoe development capabilities.
In the area of developing management infrastructure, introduction of a product lifestyle management (PLM) system should allow us to significantly streamline the work involved in everything from procurement for individual brands to sales. We also plan to deploy an enterprise resource planning (ERP) system. Digitalization of a variety of systems is something we will continue to focus on in our efforts to achieve further growth as a global company.
Toward 2020
In the next few years, Japan will play host to a number of major international sporting events, and interest in sports is on the rise. As sports in Japan reaches this high point in popularity, we hope to maintain our unique approach to conducting business and taking on challenges, ensuring that our brands continue to be appreciated by both our longtime and also new fans. Thank you again for your support.
June.2018
Masatoshi Ishimoto