President's Message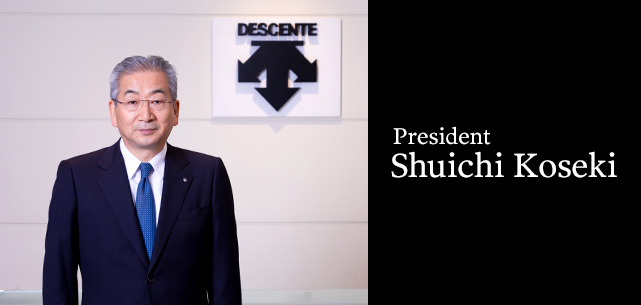 VISION 2020, our new medium-term management plan, has begun. We will bring about a rapid implementation of our plan for business growth in China, the third pillar in our regional strategy after Japan and South Korea. As our worldwide head office, DESCENTE LTD. will be moving toward further globalization.
Results for the Fiscal Year Ended March 2017
Consolidated results for the fiscal year ended March 2017, show we failed to grow as we had anticipated. We were adversely affected by both an economic slump and political instability in Asia, particularly in South Korea. Exchange rate fluctuations also had an impact, and both sales and profits fell, with sales of JPY131.543 billion (down 3.1% year-on-year), operating profit of JPY8.418 billion (a drop of 18.9%), and ordinary profit of JPY8.631 billion (down 21.9%). In Japan, meanwhile, both sales and profits rose, with results exceeding plan as our structural reforms began to bear fruit.
While adverse market conditions continued across Asia as a whole, sales rose on a local currency basis in our priority markets of South Korea and China. In particular, the DESCENTE brand was strong , its distinctively simple yet powerful designs helping to establish a "cool" image for the brand, and enabling us to maintain strong sales even in the South Korean market, despite consumer activity weakening during the fiscal year. Meanwhile in China, we established a joint venture DESCENTE (CHINA) CO., LTD. In July last year, opening six DESCENTE brand stores there in 2016 and getting off to a stronger than expected start.
Signature Initiatives Overseas in the Fiscal Year Ended March 2016
Initiatives overseas included the establishment of two joint venture companies, one of which was DESCENTE (CHINA) CO., LTD., noted above. To expand the DESCENTE brand in China, we found an ideal joint venture partner in Anta Sports Products Limited, China's leading sportswear company. By offering products tailored to the preferences of local customers, and by securing quality retail environments, we were able to clear a number of hurdles that would have been difficult had we acted alone. Local staff of the joint venture have also been very proactive about learning the history and characteristics of the DESCENTE brand, and we are very pleased with their efforts to work with us in enhancing brand value. Meanwhile, to expand our arena brand in China, we established ARENA (SHANGHAI) INDUSTRIAL CO., LTD. jointly with Symphony Holdings Ltd., and will be working quickly to roll out stores. Plans call for expansion from 189 stores as of the end of 2016, to 270 stores by the end of 2017.
We also entered into a number of supply contracts for racing suits and outerwear with gold medal winning teams, each under the DESCENTE brand. One of those is with the German Bobsleigh, Luge and Skeleton Federation, well known as a powerhouse team in the sliding sports. This contract, which came about after recognition for our product development capabilities, will be an excellent opportunity to increase brand value. A second contract, with the British Triathlon Federation, follows on from our association with the Swiss National Triathlon Team. This means that four of the six triathlon medalists at the 2016 Olympics in Rio de Janeiro will be wearing our suits in 2017.
Key Initiatives in Japan
With the goal of creating or enhancing retail environments in Japan, we remodeled or newly opened five directly managed stores, including one DESCENTE , three le coq sportif, and one arena store. The remodeled le coq sportif and arena stores saw customer traffic double, and both got off to a strong start in their new format. In the DESCENTE brand business, three of four stores under the new DESCENTE BLANC retail concept have now been open for about a year. In addition to popular outerwear led by our Mizusawa Down products we also succeeded in expanding sales of shirts, sweat shirts and other lighter products, enabling the BLANC concept to mature into a competitive year round retail environment. In terms of our strategy for directly managed stores, identifying the correct matches between brands and locations is of primary importance. We intend to implement that strategy rapidly and repeatedly with analyses from a variety of different angles . We are also focusing efforts on reinforcing the customer service skills of our sales personnel, who are another key to our strength in creating retail environments. We have been hiring new college graduates for sales positions since 2005, and as they have moved up to mid-level positions, they have become central to our ability to enhance our retail environments. While our greatest strength lies in our product development capabilities, personnel on the sales floor are crucial to ensuring the characteristics of our products themselves are communicated to our customers. We will continue to offer our salespeople the opportunity to visit the factories that produce our products and hold customer service skill-building competitions, in the expectation that our sales personnel can gain more experience and learn to better communicate our brand strengths to customers.
Initiatives for the Year Ending March 2018
To drive further expansion, in April of this year DESCENTE LTD. began doing business under a new structure that split the company in two. DESCENTE LTD. will take the role of a global headquarters responsible for overall marketing and management of our brands, while DESCENTE JAPAN LTD. will be responsible for the Japanese market, with the aim of delivering steady profits.
As the global headquarters, the mission of DESCENTE LTD. is to enhance the brand value of four of our core brands - DESCENTE, le coq sportif, arena and Munsingwear - in international markets. To accomplish this, the company is focusing on the development of core products that will represent each brand in a way that says, "This is DESCENTE," or "This is Munsingwear." Core product capsules will provide a unified identity for the brand in all markets and this will be supplemented with additional product designed with specific local needs in mind. Our goal is to have core products make up 20% of each brand.
Within DESCENTE LTD. we are also establishing R&D Centers and a Digital Marketing Strategy Office. Construction of the R&D Centers will begin shortly, and these new buildings will incorporate our longstanding and future R&D activities. The apparel R&D Center will be built in Ibaraki City, Osaka Prefecture. There, three divisions will work together: the Sports Performance R&D Section, responsible for the substantial development of sportswear that contributes to the performance of top athletes and enhances garment comfort and wearability; the Future Development Section, where analysis of the latest research data will be done to develop the next generation of both high performance and wider market sportswear; and the Quality Development Section, responsible for establishing and managing quality control criteria for all of our products in line with global standards. The footwear R&D center is expected to come online in Busan, South Korea, sometime in the summer or fall of next year, and will work on shoe R&D to enable athletes in various competitive sports to reach the pinnacle of performance. The two R&D centers will further boost our product development capabilities.
The Digital Marketing Office, in addition to ensuring consistency of tone and style between our brand sites in each country, has also been given the task of assisting DESCENTE JAPAN LTD. to achieve their goal of quintupling internet-based sales within five years. As part of that effort, the office has already begun making steady improvements, starting with standardization of product model numbers, streamlining of inventory management methods, and coordination of access to shopping sites. Our ultimate goal is to drive omni-channel success by linking those efforts with our existing expertise in in-store retail sales.
Goals for 2020
We aim to achieve the "First in the Market" strategy for each brand laid out in our VISION 2020. Increased stimulation in the sports market is expected heading toward 2020, with a lineup of popular global sporting events leading to greater exposure for our brands. We look forward to your ongoing support as we strive to achieve our goals.
Medium Term Management Plan VISION 2020 & Compass 2018
June.2017
Masatoshi Ishimoto