President's Message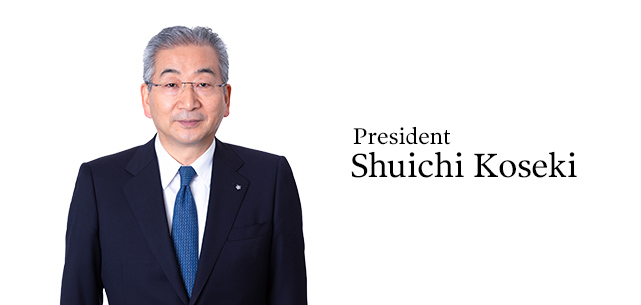 "The source of the DESCENTE Group's competitiveness lies in our manufacturing creativity and our ability to create retail environments."
By not only manufacturing and selling better products, but offering customers the sense of pleasure and excitement that comes from wearing them, the DESCENTE Group believes it affords even more people the opportunity to participate in, and share the enjoyment of sports. We also believe that communicating our corporate philosophy to a wider audience to "bring the enjoyment of sports to all" is a CSR activity each and every one of our employees can engage in. Given our involvement in sports, I think many employees of the DESCENTE Group enjoy sports and exercise in general. Outside of their work, some of them also take the initiative to exercise and convey the enjoyment of sports across generations. It pleases me to know that through this kind of independent effort, the number of people engaged in sports continues to grow. The implementation of our hands-on Sports School for Healthy Kids program is intended to expand opportunities for children to enjoy sports, and is one of the ways we are working to see sports take root nationwide over the long term as we communicate the enjoyment of sports to even more children. In the future, we hope to expand those activities by collaborating with companies, athletes and sports associations that share similar aspirations.
To better oversee the CSR activities of our individual Group companies, from April 2017 the CSR Office reports directly to the president, bringing a global perspective to establishing plans for Group company activities and allowing us to offer advice on a broad spectrum. In fiscal 2016, we also worked to identify risks at each of our operating companies and prepared a Code of Ethics for each company, and in fiscal 2017 will work to ensure compliance with those Codes. CSR activities are our point of contact with society, and our operating companies, which take the lead in promoting those activities, must place importance on even closer involvement with their local communities. We will work to share information across the Group as a whole, and ensure that we communicate precise guidelines for CSR activities.
My hope is that the DESCENTE Group will continue to thrive through the trust of our stakeholders. To accomplish that, we must first establish a solid source of competitiveness to serve as our Group strength. I believe that source lies in our manufacturing creativity and our ability to create retail environments. We will listen to the wishes of our customers and respond to those wishes through our technology and inventiveness, constantly developing new products, creating retail environments that are fresh, surprising, and that make shopping a fun experience, and allowing us to deliver products our customers will appreciate. It is also important that all of our Group employees bring a similar motivation to their work. We will continue to ensure that our Group philosophy of bringing the enjoyment of sports to all is instilled throughout the Group, and that our employees are able to move forward with their business activities based on that philosophy.
In the future, our Group companies will continue to value our ongoing communication with our stakeholders, offering people everywhere the enjoyment of sports, and pushing ahead to ensure the sustainable development of society as well as our own continued growth.
June.2017
Masatoshi Ishimoto