President's Message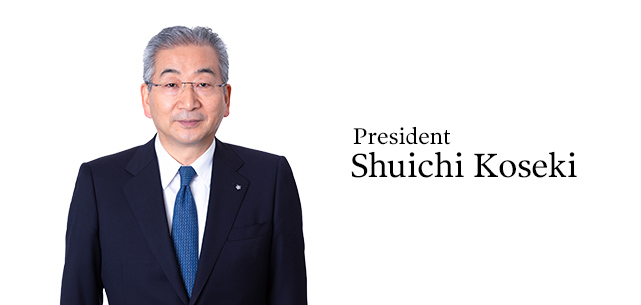 "For the DESCENTE Group,bringing the enjoyment of sports to all is the most natural and practical kind of social contribution."
To our stakeholders, the stable continuity and growth of DESCENTE is absolutely essential. Important to achieving that ongoing, stable growth is the number of solid business foundations we have. Two is better than three, and four would ensure even greater stability, so I believe that in addition to our current bases in Japan and Korea, we must maintain our regional strategy toward putting in place an additional third and fourth pillars to support our business.
In our brand business, we have five brands--DESCENTE, le coq sportif, Munsingwear, arena and inov-8--with the potential for either Asian or global expansion. By developing these five brands into our core Group brands, diversifying risk and extending the brands in categories that play to our strengths, stable growth is possible. The sports equipment market, our primary business domain, is expected to grow, supported by the global fitness boom. I hope to build the foundations of our business around this field as we execute our growth strategy.
In Compass 2018, our new Group medium-term management plan for the three years between 2016 and 2018, we have identified the further enhancement of our product development capabilities as one of our priority strategies. We will establish a new apparel R&D center in Japan and a new footwear R&D center in South Korea, developing high-performance products for the global market and honing our manufacturing creativity.
We will also review and refine our manufacturing in Japan, ramping up capacity at our own factories to improve our development prowess and expand productivity. We will enhance our ability to create retail environments, with improved product planning, visual merchandising and customer interaction to strengthen sales, under the assumption that retail stores provide the most important point of contact between our brands and our customers.
Our social contribution activities are wide-ranging, and include those we implement on our own, as with the Sports School for Healthy Kids, as well as support for other activities, as with the World Children's Baseball Foundation. I believe that for DESCENTE, which is in the business of sports, conveying the enjoyment of sports is the most natural and practical kind of social contribution. It is also important to give back to the community profits earned through business in that community, as DESCENTE Korea, Ltd. does through its social contribution activities in South Korea.
Nowhere throughout the entire operational flow of our business will DESCENTE products use materials processed with methods that have a harmful impact on the environment; neither will we use materials the disposal of which may significantly damage the environment. While our business itself is not one that places a significant burden on the environment, environmental measures we take in our own backyard include efforts to reduce CO2 emissions from our office buildings, and to enhance employee awareness of environmental issues.
We will continue to build even better communications with our stakeholders, bring the enjoyment of sports to even more people, and work toward the sustainable development of society even as we grow as a company.
June.2016
Masatoshi Ishimoto