President's Message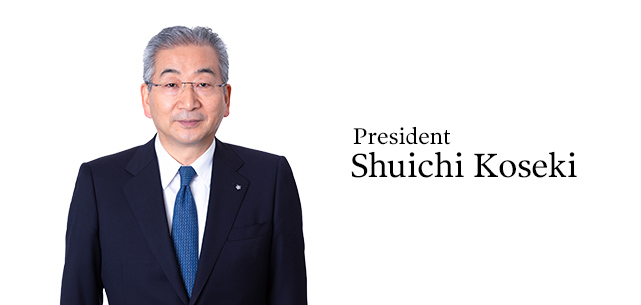 "Having all employees embrace the corporate philosophy, is the motivation for the DESCENTE Group."
Advancing Efforts to Boost Manufacturing Creativity
Over the past year, the DESCENTE Group has boosted its manufacturing creativity. We began construction of new R&D centers in Japan and South Korea in an effort to improve our product development capabilities. We also conducted joint projects between industry and academia, working with multiple universities and vocational schools to develop products that will differentiate us from others. To improve production capacity, we relocated our Yoshino factory and expanded both our ability to produce small lots with short turn-around times and our design development capabilities. We added production lines at our Mizusawa Factory, while reinstating hiring of new college graduates at all four of our own factories. All of the Group's own R&D sites and factories work to enhance R&D, technology and skills and practice quality control, and play a role in refining our unique DESCENTE Standard. Factories outside of Japan to which we outsource production are visited by training teams from our own factories, who provide knowledge and guidance where needed in areas such as fabrication, quality control methods, and efficient production line assembly and repair methods. Communicating the DESCENTE Standard to affiliated factories inside and outside Japan leads to an improved level of quality for all products under each of our brands. Japanese manufacturing has come to be recognized both at home and abroad, and no doubt our own factories will play an increasingly important role in production overall.
To provide opportunities for young people to experience for themselves the excitement and challenges of manufacturing, we also conducted a joint project with vocational school students. This was a practical class set up around the theme of developing a shoe that allows the wearer to run for long periods of time while remaining pain- and injury-free. The students were responsible for everything from product planning and creation to the final presentation to our employees. They not only brought a unique flexibility to their perceptions and viewpoints, using them to incorporate bold ideas into their designs and product concepts, but also took an academic approach backed by ergonomics and science, offering us an opportunity to gain a truly new perspective. Going forward, we will continue to actively participate in these kinds of initiatives.
Building a Sense of Group Unity around our Corporate Philosophy
In engaging in activities based on our corporate philosophy, it is important that all of our Group employees be driven by the same motivation. In April 2017, DESCENTE Ltd. created a spin off, with our business in Japan set up as a separate entity under DESCENTE JAPAN LTD. We believe, however, that seeing our employees' loyalties also divided between the two companies would represent an unacceptable risk. This is why, as we divided the companies, we took a variety of steps to ensure an even greater sense of unity within the Group. We reaffirmed that the Group was moving forward with our corporate philosophy at its axis, and established a Corporate Philosophy Promotion Committee, which is charged with instilling the Spirit of DESCENTE--Creation, Challenge, Integrity and Harmony-- throughout the Group, thus allowing all of our employees to base their own actions around that same axis. The wallpaper design that appears when employees start up their computer, with its motif based on the Spirit of DESCENTE, has been well-received even by new hires, who take it as a sign that DESCENTE is an interesting place to work. We also built awareness through an in-house athletic meet, held for the first time in 20 years, where teams were named after each of the four keywords that make up our founding spirit. In 2018, these efforts will move from the dissemination stage to the action level. One of those moves will be to incorporate lessons on our corporate philosophy and founding spirit into our stratified employee training for FY 2018. We are also considering commending employees--nominated by their colleagues--who put our corporate philosophy and founding spirit into practice, and reflecting those commendations in our personnel evaluations.
Mixing Company and Brand Names
The DESCENTE brand, also the company name, has come to be recognized the world over, as products branded under the company name generate their own centripetal force. By mixing the company name DESCENTE with the brand name DESCENTE, we hope to further enhance that driving force. Reorganizing the role of the global headquarters following the company division has enabled us to also sort out what each company should do versus what the global headquarters should be doing. As the global headquarters builds its own centripetal force, we also need to elevate our manufacturing creativity and ability to strengthen our brands globally, and improve our ability to respond to the expectations of each of our group companies. This, I think, will allow everyone in the Group to be proud of the fact that they are members of the DESCENTE Group.
The Objective of Work is to Make Customers Happy
While Japanese manufacturing is recognized inside and outside Japan, its reputation in terms of governance and compliance has been shaken by a number of scandals. It is the company's responsibility to ensure that each and every employee understands our corporate philosophy, and that everyone in the Group shares the answers to questions such as why their company exists, how they can contribute to their company, and why and for whom they work. Working for the DESCENTE Group means being part of a chain that connects everything from product manufacture to final delivery to the customer. To complete that chain, it is important that everyone understands their individual roles, the roles of those around them, and the entire process, and brings the same set of aspirations to their work. If we keep in mind that we are working to make our customers happy, lying to benefit corporate profits should not happen. While profits are important to the company, they are a driver of business and not our reason for being. The company's reason for being is to fulfill the tenets of our corporate philosophy.
The DESCENTE Group will share with all of its employees its corporate philosophy of bringing the enjoyment of sports to all, as we continue to engage in honest business activities.
June.2018